You are here
DMPED Opens "Great Streets Small Business Grants" Applications
The Office of the Deputy Mayor for Planning and Economic Development (DMPED) welcomes submissions from eligible small businesses seeking to improve their place of business through this capital improvement grant program.
Purpose

: The purpose of the Great Streets Initiative is to transform certain designated emerging commercial corridors into thriving, walkable, and inviting neighborhood experiences. The Great Streets Initiative does this by supporting existing businesses, attracting new businesses, increasing the District's tax base, and creating new job opportunities for District residents.
Award

: DMPED will award up $3,000,000 total in grants. Maximum request per application is $50,000.
Eligible businesses

: A new or existing small business owner whose business location is either within, and/or plans to move to a Great Street Corridor are eligible (see map at: http://ht.ly/m90F30cM0bz).
Ineligible businesses

: Adult Entertainment, Auto Body Shops, Financial Institutions, Construction/General Contracting, Home-Based Businesses, Professional and Medical Offices, Non-Profit Child Development Centers, Hotels, Phone Stores, and Real Estate Development/Property Management Realtor.
Following is a list of the Great Street Corridors:
7th Street/Georgia Ave NW

Connecticut Avenue NW

Georgia Avenue NW

H Street – Bladensburg Road NE

Minnesota/Benning Road NE

Martin Luther King Jr. Avenue SE/ South Capitol Street SE/SW

New York Avenue NE

North Capitol Street NW/NE

Pennsylvania Avenue SE

Wisconsin Avenue NW

Nannie Helen Burroughs Avenue NE

Rhode Island Avenue NE

U Street/14th Street NW (Adams Morgan/Mt. Pleasant)
For additional eligibility requirements and exclusions, please review the Request for Application (RFA) which will be posted at www.greatstreets.dc.gov by Friday, September 20, 2019

Period of Performance: November 2019 through September 2020.

Grant Information Sessions: DMPED will host multiple information and live web chat sessions on the Great Streets Corridors. Details about the information sessions will be posted at www.greatstreets.dc.gov.

Deadline for Electronic Submission: Applicants must submit an online application to DMPED via the Agency's system no later than 12 noon EST on Thursday, October 24, 2019

Contact Name: Grant Administrator, dmpedgrants@dc.gov Phone: 202.724.8111
If you have any questions about this Agency Alert for Funding, please contact Grant Administrator, dmpedgrants@dc.gov or 202.724.8111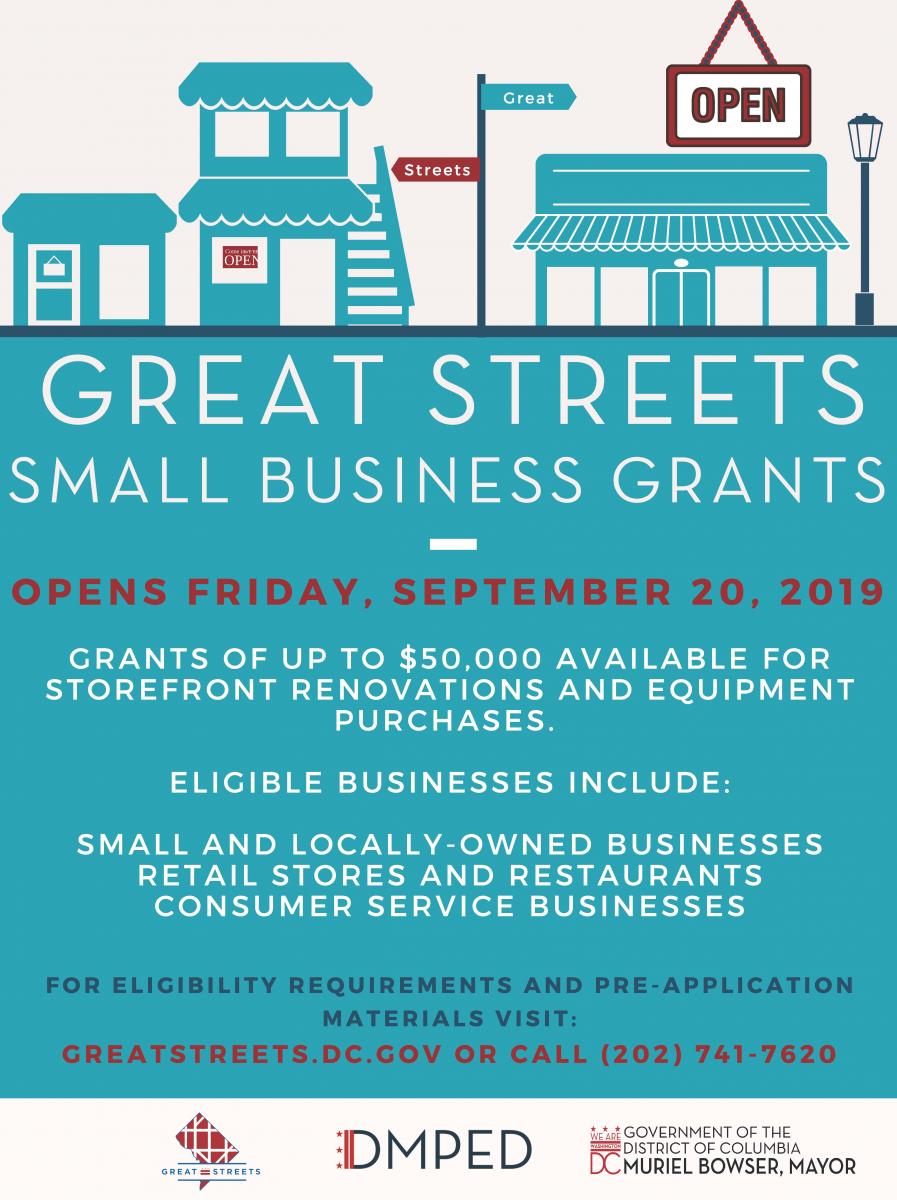 Related Issues & Advocacy Categories: