You are here
Raise a Pint with the DC Brewing Community at HopFest 2020
DC Brau to Host the DC Brewers' Guild's Sixth Annual Beer Festival Celebrating Hop-Forward Offerings on Saturday, March 14th
Washington, DC -- January 7, 2020 -- All hail the mighty hop! The DC brewing community invites hop-lovers to its sixth annual HopFest on Saturday, March 14th from 1:00 - 5:00pm. HopFest 2020, the only DC beer festival by local brewers, for local brewers, will take place at DC Brau Brewing (3178 Bladensburg Rd NE) in Northeast DC in support of the DC Brewers' Guild.
"HopFest is our chance each spring to come together as a community and taste some of the hoppiest offerings by breweries and cideries from all across the region," says DC Brewers' Guild Executive Director, Paul Dean. "There will be hard-to-find rare brews, one-offs crafted just for the event, plus some tried and true favorites!"
Tickets for HopFest are now on sale online at https://www.eventbrite.com/e/6th-annual-hopfest-tickets-87987556149. Early bird general admission tickets are $45 through February 1st when prices go up to $50, which include a special DC Brewers' Guild tasting glass and unlimited pours of dozens of hoppy beers. A limited number of VIP passes, which include exclusive early entry from noon to 1:00 pm and a special commemorative gift, also are available online for $75 each.
This is a 21+ only event. A full list of participating breweries, food vendors and entertainment will be posted on the Guild's Facebook event page at https://www.facebook.com/DCBrewersGuild/ in the coming weeks.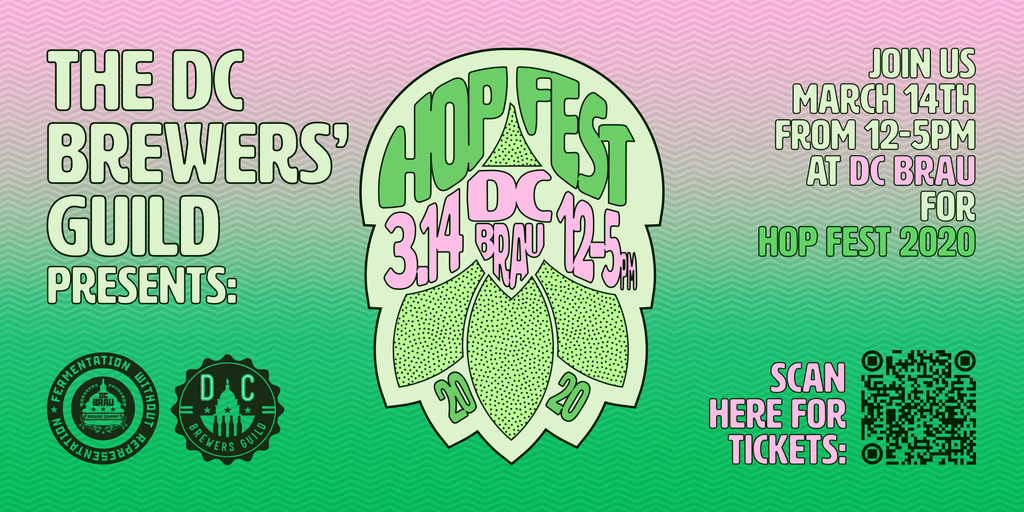 # # #
The District of Columbia Brewers' Guild (DCBG) is a 501(c)(6) organization that exists to unify the Washington, DC brewing community by honoring DC's brewing heritage, fostering community development & pride, educating consumers, promoting shared business interests, and encouraging sustainable growth. Visit the guild's website at www.dcbg.org and follow on social media @DCBrewersGuild.
DC Brau has been producing award-winning craft beer at its brewery in Northeast DC since 2011. For more information, visit www.dcbrau.com and follow on social media @dcbrau.
Related Issues & Advocacy Categories:
Jurisdiction:
Maryland
Virginia
Washington DC